2019 Martellotto White Wine Blend Santa Ynez Valley
$24.99
$40.00
saving
$15.01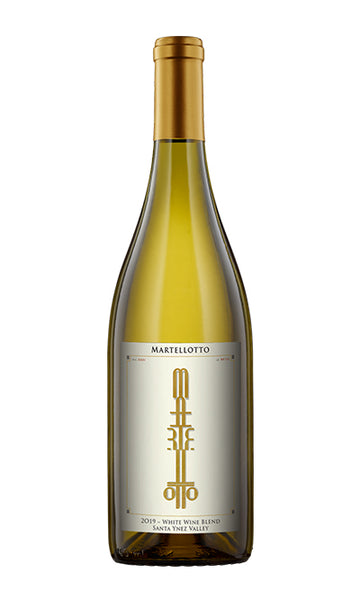 2019 Martellotto White Wine Blend Santa Ynez Valley
$24.99
$40.00
saving
$15.01
This wine is unique and a slight departure from the normal focus of Bordeaux varietals from Happy Canyon of Santa Barbara and Burgundy varietals from Sta. Rita Hills. Produced for a special clients who wanted signature Rhone varietals from Santa Ynez Valley, this wine is sourced from Camp 4 Vineyard. The Viognier was tank fermented and aged, while the Roussanne was barrel fermented and aged in mostly once used French oak barrels for about four months. 
55% Roussanne, 45% Viognier
Alluring Aromatics of honey & butterscotch
Lush, lovely and enticing
Fabulous Aperitif wine
Only 72 bottles remaining.

Winemaker Notes:

Bottled young, after only 5 months, this was a true winemaker's tour de force. I wanted to replicate some of the stunning white Rhone wines I've had in Chateauneuf du Pape. One of the challenges with white Rhone varietals is that they typically are lower acid white varietals that tend to get very ripe (meaning higher alcohol and lower acid). We picked earlier and did not let the wine undergo full malolactic. As a result, this white Rhone blend explodes with freshness, vibrancy, and sunshine. Viognier brings tropical aromas of honeysuckle, white peach, and dried apricot. The Roussanne adds a rounded depth of flavors including butterscotch and honey-crisp apple. The wine finishes with a lip-smacking, lightly toasted oak and vanilla kiss.