Santa Barbara County Wine, Part 1: Close to Home Yet Adventurous in Spirit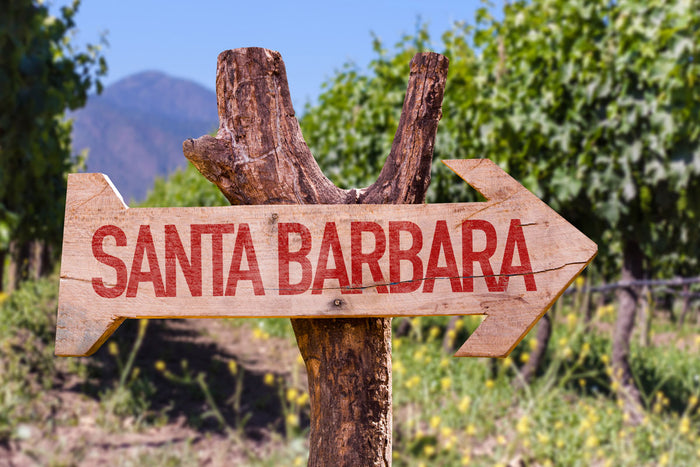 Southern California provides many opportunities for visitors and residents alike to be adventurous with wine, but Santa Barbara County provides an atmosphere unlike the rest of Southern California. While the city of Santa Barbara, known as "The American Riviera," offers many surprises for the wine curious, Santa Barbara County is a true wine hub.
For a delightful California wine getaway not far from Los Angeles and San Diego, Santa Barbara County is the indispensable choice.
Santa Barbara County Wine: Hundreds of Wineries For Many Different Experiences
Santa Barbara County is a thrilling and diverse area for wineries and vineyards. Some of California's most complex terroir is located here and is producing some of the world's most exciting wines.
All this within a reasonable driving distance that encompasses the coast, the mountains and the hills in between. Traveling these trails, you'll feel like you've gone back in time and should be moseying around on horseback.
To make the most of your Santa Barbara County wine adventure, start by becoming familiar with the various wine routes. There are eight wine routes or trails, some aligned with the six federally-sanctioned American Viticultural Areas (AVAs) and some more urban in style.
Happy Trails, Happy Adventures
(Credit: Santa Barbara Vinters)
Aligning the wine trails with the AVAs, starting in Santa Barbara going north are:
Wine Route (and AVA)
Santa Barbara Urban Trail (no AVA, City of Santa Barbara) 
Solvang Wine Walk (no AVA, "Danish" Capital)
Buellton Wine Trail (no AVA, centrally located)
Lompoc Wine Trail (no AVA, Wine Ghetto)
Santa Rita Hills Wine Trail (Santa Rita Hills AVA)
Santa Ynez Wine Trail (Santa Ynez AVA / Ballard Canyon AVA)
Los Olivos Wine Promenade (Los Olivos District AVA)
Foxen Canyon, Los Alamos, Santa Maria Wine Trail (Santa Maria AVA)
The Santa Ynez AVA includes four sub AVAs: Santa Rita Hills in the west, Ballard Canyon and Los Olivos District in the center, and Happy Canyon in the east.
Two additional AVAs are under consideration: Santa Maria Bench and Los Alamos Valley. These areas are currently part of the Foxen Canyon/Los Alamos/Santa Maria Wine Trail.
(Credit: Santa Barbara Vinters)
Serious Wine Country, Indeed!   
 What makes Santa Barbara County wine so special? Topography + soil + climate + passionate winemakers. 
The signature wines are elegant and balanced, reflective of the cool ocean breezes that swirl through the mountain passes from west to east. These sea breezes and fog keep the temperatures lower, which allows grapes to ripen longer and slower, retaining acidity and building flavor.
Santa Barbara County has many different soils from limestone to crumbly sedimentary rocks to clay and loam (a combination of sand and silt.) With such distinct soils, the County can support a diversity of grape varieties and a wide range of wines.
Plan Your Next Trip, Short or Long...
Come to Santa Barbara County, enjoy the beautiful weather, the spectacular vistas, the down-to-earth people and the unique and tasty wines. 
You'll find many types of accommodations and amazing places to eat, but a yummy picnic with a luscious bottle of wine will make it a trip to remember. Start your journey here.