Martellotto Wine & Cheese Pairings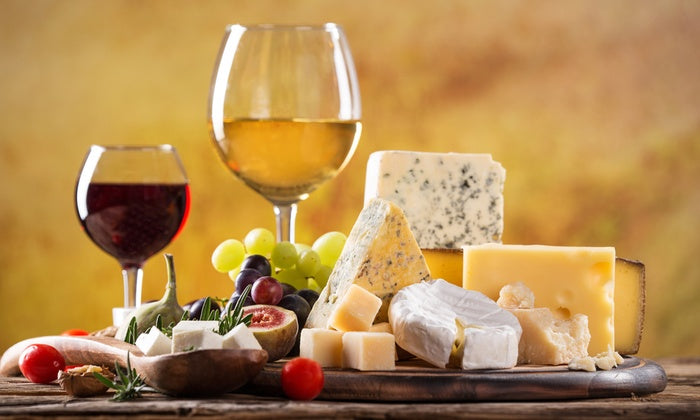 In February 2019, three cheese experts met in Northern California for a wine and cheese Olympics of sorts. The cheesemongers spents hours tasting, reviewing and comparing dozens of cheeses to find the perfect match with the Martellotto winery current release wines. Here are their results: 
"Opulence and vivacity play tug-of-war in the glass with classic Chardonnay aromas of ripe apricot, baked pear, lemon curd, toasted hazelnuts, and even chamomile. The acidity sizzles keeping this rich wine toned, structured, and refreshing."




Gold: Ossau Iraty (Sheep - Pyrenees, France)
"This is a magnificently compelling cheese with robust flavors that dance and buzz when it meets Melodeon.  This pairing is like the lively conversation of two intelligent, intimate friends meeting after a long absence.  We just want to sit and listen or, in this case, indulge."

Silver: Van Dijk (Goat - Holland, Netherlands) 
"Like Rumplestiltskin, the nutty, creamy intensity of this cheese transforms Melodeon's vibrating acidity into pure silk.  Seductive!"

Bronze: Fromager d'Affinois Excellence (Cow - France) 
"This triple-cream is all buttery decadence but when paired with the Melodeon, the rich wine comes across friendly, fresh, and fantastically fruity."

Feeling bold? 
Try Oregonzola (Rogue River Creamery, Oregon, USA) 
"Want something less classic and more avant-garde?  Forego the triple cream and hunt down a piece of Oregonzola.  The cheese has a zesty bite that allows the wine to really show off its floral aromas and flavors.  This is a big cheese and this pairing dramatically showcases this wine's more delicate side."
"This is a bigger body rosé with pronounced notes of watermelon, fresh thyme, and raspberry creme.  Goat's milk cheeses, with their punchy bite and bold infusions, were magic pairings over and again."




Gold: Purple Haze (Goat - Cypress Grove - California, USA)
"Flakes of lavender and wild fennel give this creamy cheese a dreamy bite.  It highlights the herbal, floral notes of the "La Rosa" in a spectacular way.  Mary Dedrick may have said it best: 'It was fucking good!'"

Silver: Fleurette (Goat - France)
"This is a mild, creamy - almost runny - Brie-like cheese and it makes this rosé absolutely bloom!  Flavors of roses, blossoms, early June.  This is delicate and delicious!"

Bronze: Humboldt Fog (Goat - Cypress Grove - California, USA)
"Quintessential Californian goat cheese with its characteristic line of vegetable ash gives this wine a serious, savory twist.  Each bite encourages another sip.  Which leads to another bite.  Then sip. You can see where this dance gets us."
"Raspberry and cranberry flavors pair with notes of savory spice, dried herbs, and black salt.  The medium body and refreshingly snappy acidity means that this wine will be incredibly versatile with a huge range of cheeses.  Our enviable task? Find the best ones."




Gold: Comté (Raw Cow - Alps - France)
"A serious cheese with grassy, floral, toasty notes and a subtle barny funk.  This is a serious cheese but when tasted alongside this Pinot, the good times do begin to roll!  The wine shows off its juicy, fresh, playful side that makes us think of the best of Morgon, Fleurie, or Julienas.  Glou glou all the way!  Two bottles ought to accompany every wedge of Comté."

Silver: Applewood Smoked Cheddar (Cow - Carr Family - Wisconsin, USA)
"Cheddar doesn't often play nice with wine, especially with delicate, lighter wines. Smoke that Cheddar over apple wood?  Forget about it; or, so we thought.  This smoky, sweet, massively masculine cheese let the Pinot act the silky, smooth seductress.  Opposites do attract."

Bronze: Iberico (Cow, Goat, Sheep - Spain)
"This three-milk triple threat from the rugged interior of Spain has a pronounced savoriness - almost meaty in its salty rusticity.  After a bite, one sip of this Pinot lets the lavender, rosemary, sage elements shine.  The wine tastes juicy and undeniably fresh."
"This Merlot-based blend is a powerhouse: fine grained tannins form the structure for rich blackberry, plum, dark cherry, and even chocolate notes."




Gold: Piave (Cow - Italy)
"This aged cow cheese from Italy has subtle nutty, grass-like notes that offer the purest pairing for Il Capoccia - it accents the wine's velvety texture perfectly!"

Silver: Midnight Moon (Goat - Holland, Netherlands)
"The buttery nuttiness of this cheese takes 6 months to develop but enjoying it with Il Capoccia takes seconds.  The wine brings its darkside to light: potent, imposing, brooding, and undeniably attractive."

Bronze: Le Roulé (Cow - France)
"Another marriage of opposites - this young cheese is infused with garlic and rosemary and offers a tangy, zesty flair to its light texture.  Partnered with this zippy cheese, "the Bossman" comes across elegant and aristocratic. Think Gregory Peck, James Bond, or even Sherlock Holmes."
"Lush and decadent - this blend of 80% Malbec and 20% Petit Verdot is all velvet and toasty oak in an inky dark package.  Hints of baking spices and the most polished tannins frame the rich fruit.  Pure pleasure."




Gold: Black Bomber Cheddar (Cow - Morth, Wales, UK)
"This extra-mature Cheddar has all the stuffing to hold up to the inky, hedonistic "My Way".  The bombastic flavors of the cheese and the wine complement each other magnificently!"

Silver: Ewephoria (Sheep - the Netherlands)
"Caramelly and crystaline, this aged Gouda isn't shy or subtle in the least.  Malbec lends a potent but refreshing wave of fruitiness that brightens and uplifts the pairing.  A little of the cheese goes a long way."

Bronze: Chimay Vieux (Washed Rind - Cow - Belgium)
"Chimay Vieux brings a funky, creamy component to the Malbec - the contrast with the sumptuous density of the wine fascinates!  This pairing surprised and delighted us."
"This Cabernet isn't shy of its fruit, its power, or its structure.  Plush dark, ripe fruit is accented by vanilla, cinnamon, baking spice and under-gird with incredibly polished tannins."




Gold: Truffle (Cow - Fromager d'Affinois - France)
"We were stunned how this truffle infused double cream - with its salty, earthy, creaminess - softened the tannins and accented (and sweetened) the fruit of "La Bomba".  We went back for seconds and thirds.  You know, just to be sure."

Silver: Grand Noir (Cow - Germany)
"We loved this cheese!  Earthy, herbal, sweet, salty, funky, creamy, fabulous!  It had everything but overwhelmed all the other wines we had tried to pair with it - except "La Bomba".  The sheer weight of this wine with its abundant fruit and enviable structure was more than a match: it's an absolute must-try combination!"

Bronze: Le Fleur Vert (Goat - France)
"Peppery, fresh, and floral this youthful goat cheese is infused with thyme, tarragon, and pink peppercorns.  It offers a delicate counterpoint to "La Bomba's" sheer force.  The wine gains a very attractive vibrancy with this unexpected pairing."
"Like eating dessert in the garden on a warm evening in early summer.  There are abundant floral notes comingling with hints of mandarins, fresh herbs, carmelized sugar, and vanilla."


Gold: Meredith Dairy Marinated Feta (Sheep & Goat - USA)
"Goat and sheep milk feta marinated in olive oil with black peppercorns, and sprigs of rosemary and thyme.  There is a mouthwatering creamy piquancy to this cheese that stretches the capabilities of this delicate Vermouth to the fullest.  The subtle sweet notes and the vibrant acidic edge of the wine balance the spice of the peppercorns and the divine creaminess of the cheese."

Silver: Domaine du Vallage (Cow - France)
"This Vermouth is a a delicate wine with a lot of understated power.  Domaine du Vallage triple-cream offers a solid canvas for the wine to really come alive.  It seems incredibly playful and vibrant in this pairing."

Bronze: Guffanti Baked Ricotta Limone (Cow - Italy)
"Holy shit!  Lemon cheesecake!  This cheese had the room buzzing and coming around for more!  No one could believe how dessert like the flavors were.  The Semi-Secco Vermouth - with its notes of mandarin and lemon peel - was a beautiful partner for this baked ricotta."
The Expert Cheese Judges:
Tyler Lee ~ As an undergraduate, he studied literature in Rome and then went on to receive his Master's in Victorian literature in Scotland. He has since married his love of literature with wine.  He cut his professional teeth in the industry as a Wine, Beer and Spirits Buyer at Whole Foods Market.  After Whole Foods Market, he sequestered himself to the Gold Country and helped friends start a vineyard, maintain a prolific citrus orchard and continued his wine studies. In 2018 he was awarded the WSET Diploma. Currently Tyler is the Operations Manager at Vino Noceto, one of the top wineries in the Sierra Foothills.  


Mary Dedrick ~  Mary's foodie career and fabulous adventures started in S. California as a private chef and in-house coordinator for a major talent agency, as well as a representative for major Specialty retailers until she decided to move up to N. California and contribute to a community that now enjoys an enthusiastic and growing wine and cheese culture in the Sierra foothills.  Dedrick's Cheese opened in 2002 and has over 250 types of cheese as well as a full selection of other specialty items including cured meats, crackers, and bakery items.  Mary currently has a location in Placerville, CA -along with 7 other satellite locations around N. California and participates in farmer's markets around N. California.   Dedrick's Cheese also pairs local wines with cheeses for many winery events in N. California.  Mary Dedrick has served as a judge for the CA State Fair for last 5 years as well as the Chief Cheese Judge for 7 years.


Danielle Slater ~ Danielle was in the first national graduating class to be certified by the American CheeseSociety as a Certified Cheese Specialist (ACSCCP) while enjoying a career in leadership with Whole Foods Market guiding Buyers and Teams in Cheese, Wine, Beer as well as other specialty products.  Danielle spent time representing Whole Foods and a major cheese producer on numerous morning wine and cheese pairing and cooking segments on Good Day Sacramento and Fox Morning shows.  She now enjoys growing French and Italian grapes, as well as citrus and olives, on a ranch in N. California.