2017 Martellotto "It Was A Very Good Year" Petit Verdot Happy Canyon of Santa Barbara
$29.99
$50.00
saving
$20.01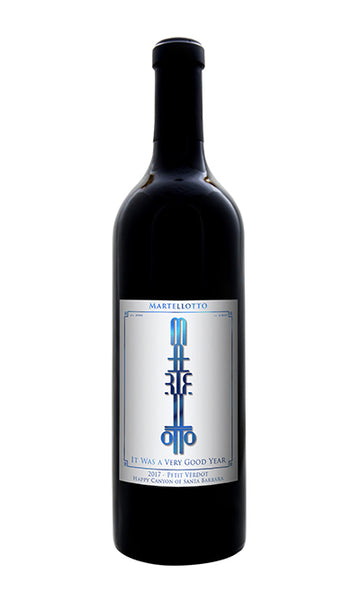 2017 Martellotto "It Was A Very Good Year" Petit Verdot Happy Canyon of Santa Barbara
$29.99
$50.00
saving
$20.01
About the wine
Aged for 18 months in 20% new oak, the wine shows requisite graphite, cedar, and tobacco. The wine is balanced with generous black cherry and blueberry flavors, with a complementary dose of vanilla and toasted oak.
No shrinking violet, this vintage loves to be paired with big flavors and spice.
Enjoy it with ribeye steak, roast lamb, smoked brisket, ox cheek stew with chili, grilled eggplant, and strong hard cheeses like cheddar, or a sweet and mellow blue cheese. 
Blend: 80% Petit Verdot, 20% Malbec 
About Martellotto Winery
Set deep in the heart of Santa Barbara wine country, Martellotto Winery makes handcrafted beautiful and exciting wines using specially selected grapes from across California's Central Coast, including American Viticultural Areas (AVAs) like Happy Canyon AVA, Sta. Rita Hills AVA, Santa Ynez Valley AVA, and Santa Maria Valley AVA. Owner and winemaker, Greg Martellotto, specializes in Bordeaux varietals. Martellotto Winery is one of the few wineries producing single varietally bottled wines of all five of the noble Bordeaux varietals: Merlot, Cabernet Sauvignon, Cabernet Franc, Petit Verdot, and Malbec.

Enjoy this wine while listening to Frank Sinatra perform "It Was A Very Good Year."